Commercial Doors & Hardware
This product category offers many opportunities for the small light commercial projects your customers may encounter.
Inventory Categories
---
Hollow Metal Doors & Frames
Architectural Grade Wood Doors
Architectural Grade Finish Hardware
Baked Enamel Steel Toilet Partitions
Stainless Steel Toilet Accessories
Prefinished Steel Frames
Various Specialty Hollow Metal Products
Major Manufacturers – Steel Doors & Frames
---
Curries
Steelcraft
Timely Industries Prefinished Steel Frames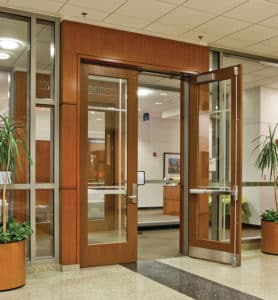 Major Manufacturers – Architectural Wood Doors
---
VT Industries/Eggers Industries
Masonite Architectural
Major Manufacturers – Commercial Hardware
---
Corbin Lock Co.
Detex
dormakaba BEST
Falcon Lock Co.
Sargent Lock Co.
Schlage Lock Co.
Von Duprin
Yale Security Product
Hager Companies
Glynn Johnson
LCN Closers
National Guard Products
Norton Closers
PDQ
Major Manufacturers – Toilet Partitions & Accessories
---
Accurate Partitions
ASI
Bobrick
Bradley
An experienced, trained staff is prepared to assist you in this product category requiring specialized knowledge with solutions-based product recommendations, estimates, and product coordination.
A significant inventory is in place to service many of your customer's needs. And our relationships with leading industry manufacturers means that you will benefit from their reliability and quality products.
Our on-site fabrication facilities weld frames and modifies doors providing quick turnarounds for many special situations.