This product category offers NewTechWood Composite Deck Tile and NUDO Sheet & Laminated Panels.
Inventory Categories – NewTechWood Composite Deck Tile
---
12" x 12" Tiles – 4 Colors
36" x 12" Tiles – 4 Colors
Inventory Categories – NUDO Sheet & Laminated Panels
---
.090", 12oz Smooth FRP Sheet
.090", 12oz Textured FRP Sheet
.090" Textured HDPE Sheet
3/8" OSB x White Textured FRP Laminated Panel
.040" Tongue & Groove White Liner Panel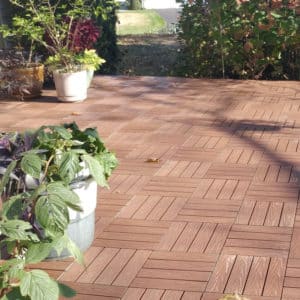 NewTechWood delivers a simple, do-it-yourself solution to upgrade plain or weathered decks, patios, sunrooms, or other areas into stylish outdoor living spaces. And, with a 15-year warranty, you are guaranteed an ultra-low maintenance space you can enjoy for years to come.
UltraShield Deck Tile is a 100% eco-friendly capped composite deck tile comprised of natural wood grains and interlocking base for quick and easy installation. Also, the decking tiles will not bend, warp, split, or crack so not only is it easy to install; it is virtually maintenance free.
UltraShield Capped Composite Deck Tile's interlocking system is also raised to allow for proper drainage of water and pools that could be created during heavy rain. The innovative interlocking deck tile was designed to be used by anyone from DIY beginners to veteran builders looking for a gorgeous, easy to install deck.
From a strong, lightweight design to a decorative, versatile need, NUDO panels are resistant to high-moisture conditions with near limitless design capabilities. Laminated facing options include aluminum, high-density polyethylene (HDPE), fiberglass Reinforced plastic (FRP) or can be combined with insulation to achieve the needs of the space.
From basic liner sheets to highly customizable laminated combinations, NUDO can meet your water, impact, fire and durability requirements.